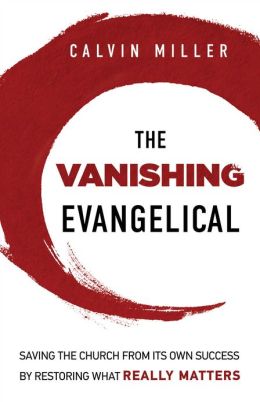 Calvin Miller, The Vanishing Evangelical: Saving the Church from its Own Success by Restoring What Really Matters. Baker Books, 2013.
Herein lies an examination of the current state of that somewhat nebulous entity known as "Evangelicalism.' An analysis which hops from worship to mission to the information age to the attack of secularism and preaching in the church. An analysis and, nearly, an obituary.
In his first chapter Miller notes "Generally I have noticed that the events of any movement that has been moving in one direction continue to move in that direction until they reach a conclusion. Great movements like American evangelicalism rarely come to a complete and final stop. They end in a reduced state of trickled down vitality. There will always be evangelicals, of course; the question is how many and for how long?"
Yes, indeed. Wait... what? I'm afraid the confusion here is basically carried through the whole book. If there will always be evangelicals then there is no question of how long. And if great movements always reach their conclusion, how exactly has the church survived? And if it doesn't come to a complete stop... well, you get the idea. Frankly, as I came back to write this review I was shocked to reread the subtitle. Somehow it got lost in the actual book.
Unfortunately, The Vanishing Evangelical hops from common sense to ill-founded conjecture all to frequently. There are good points here, but the book ends up reading as a long list of complaints from someone who is trying their best to stay in the "good camp" while groaning about what a terrible camp it has become. Some of the ideas are sound and provocative but they never come together.
Conclusion: 2 Stars. Not recommended.
Book has been provided courtesy of Graf-Martin Communications and Baker Books in exchange for an honest review.